NEXT FOR2625 Meeting

FOR2625 SYMPOSIUM "LYSOSOMES & AUTOPHAGY"
New Date: May 5-6, 2022 in Berlin, Germany
Originally scheduled in June 2020 our FOR2625 symposium had to be cancelled twice due to the covid-19 pandemic as most scientifc meetings worldwide. We decided to reschedule our symposium once more to spring 2022, being optimistic that daily and scientific life will have back come back to normal within 2022.
Most speakers who confirmed their participation in our two-day program in June 2020/April 2021 have reconfirmed their attendance also in 2022. We are very excited to share an unique meeting with you, learning and discussing about the newest findings on the molecular machinery of the endo-lysosomal system and autophagy.
Pre-registration is open now.
The symposium is limited to 160 participants.

For more information and online registration please visit the symposium's website: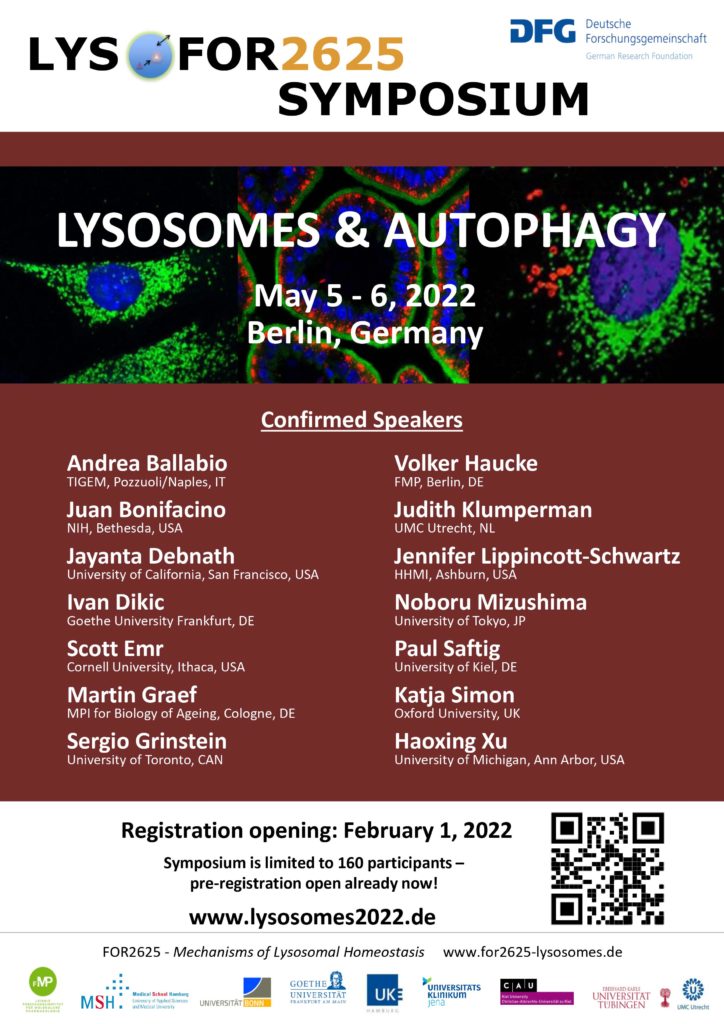 Download Poster FOR2625 Symposium (PDF)
---
past FOR2625 meetings

FOR2625 kickoff meeting 2nd funding period (December 2020, virtual meeting)
2nd FOR2625 retreat (June 2019, Utrecht/NL)
1st FOR2625 retreat (May 2018, Bad Homburg)
FOR2625 kickoff meeting (December 2017, Hamburg)