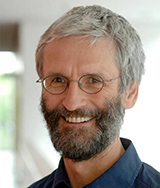 Thomas J. Jentsch
PI of Research Project 6:
"Cell type-specific roles of chloride/proton exchange in lysosomes"
CONTACT
---
Prof. Dr. Dr. Thomas J. Jentsch
Leibniz-Institut für Molekulare Pharmakologie und
Max-Delbrück-Centrum für Molekulare Medizin
Robert-Rössle-Strasse 10
D-13125 Berlin
Germany
phone: +49 (0) 30 9406 2961
fax: +49 (0) 30 9406 2960
jentsch@fmp-berlin.de
website Jentsch Lab
KEY PUBLICATIONS
---
Pathogenesis of hypertension in a mouse model for CLCN2-related hyperaldosteronism. Göppner C, Orozco IJ, Hoegg-Beiler MB, Soria AH, Hübner CA, Fernandes-Rosa FL, Boulkroun S, Zennaro MC, Jentsch TJ (2019) Nat Commun 10: 4678.
Identification of TMEM206 proteins as pore of PAORAC/ASOR acid-sensitive chloride channels. Ullrich F, Blin S, Lazarow K, Daubitz T, von Kries JP, Jentsch TJ  (2019) Elife 8:e49187.
Subunit composition of VRAC channels determines substrate specificity and cellular resistance to Pt-based anti-cancer drugs. Planells-Cases R, Lutter D, Guyader C, Gerhards NM, Ullrich F, Elger DA, Kucukosmanoglu A, Xu G, Voss FK, Reincke SM, Stauber T, Blomen VA, Vis DJ, Wessels LF, Brummelkamp TR, Borst P, Rottenberg S, Jentsch TJ (2015) EMBO J 34:2993-3008.
Identification of LRRC8 heteromers as an essential component of the volume-regulated anion channel VRAC. Voss FK, Ullrich F, Münch J, Lazarow K, Lutter D, Mah N, Andrade-Navarro MA, von Kries JP, Stauber T*, Jentsch TJ* (2014) Science 344:634-8. (*corresponding authors)
Lysosomal pathology and osteopetrosis upon loss of H+-driven lysosomal Cl– accumulation. Weinert S, Jabs S, Supanchart C, Schweizer M, Gimber N, Richter M, Rademann J, Stauber T, Kornak U, Jentsch TJ (2010) Science 328:1401-3.
Endosomal chloride-proton exchange rather than chloride conductance is crucial for renal endocytosis. Novarino G, Weinert S, Rickheit G, Jentsch TJ (2010) Science 328:1398-401.
ClC-7 requires Ostm1 as a β-subunit to support bone resorption and lysosomal function. Lange PF, Wartosch L, Jentsch TJ*, Fuhrmann JC (2006) Nature 440:220-3. (*corresponding author)
Voltage-dependent electrogenic chloride-proton exchange by endosomal CLC proteins. Scheel O, Zdebik AA, Lourdel S, Jentsch TJ (2005) Nature 436:424-7.
Loss of the chloride channel ClC-7 leads to lysosomal storage disease and neurodegeneration. Kasper D, Planells-Cases R, Fuhrmann JC, Scheel O, Zeitz O, Ruether K, Schmitt A, Poët M, Steinfeld R, Schweizer M, Kornak U, Jentsch TJ (2005) EMBO J 24:1079-91.
Loss of the ClC-7 chloride channel leads to osteopetrosis in mice and man. Kornak U, Kasper D, Bösl MR, Kaiser E, Schweizer M, Schulz A, Friedrich W, Delling G, Jentsch TJ (2001) Cell 104:205-15.